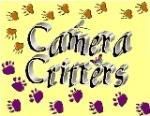 It's been a while since I have posted for camera critters, but I'm back with some more pictures of my entertaining dog, Sully.
My husband was out doing the grocery shopping, and I called him and told him that Sully needed a new bone to chew on. So, my wonderful husband, being the great man that he is, bought Sully the best bone he could find....
I think this bone will last a while!!